2408A-1 Versatile 16 In 1 Repair Tool Kit Screwdrivers PC Phone
SKU:

MBRTRT081

UPC:

MPN:

Condition:

New

Availability:

Usually ships in 24 hours
Frequently bought together:
Description
2408A-1 Versatile 16 In 1 Repair Tool Kit Screwdrivers PC Phone
Professional screwdrivers allow you to open cover of mobile phones easily and without damage to the phone cover,Ideal for mobile phone,PDA,PC&other applications.
100% Brand New
Tpye:2408A-1
Use for mobile phone,PDA,PC and other applications
Anti-slip handle with magnetic tips

Material:Tool Steel + Plastic

Color: just as the picture
for Mobile phones/Tablet PC/PAD
Package includes:
1pcs T6 screw driver
1pcs T5 screw driver
1pcs T4 screw driver
1pcs 1.2 Star screw driver
1pcs 0.8 Star screw driver
1pcs 1.2 Cross screw driver
1pcs 1.5 Cross screw driver
1pcs 2.0 Straight screw driver
1pcs Straight tweezer
1pcs Curved tweezer
2pcs Plastic prys (they are different shapesame as the picture show)
1pcs Scrapers
1pcs Graver
2pcs Opening tools (they are different,one is more smaller than the other,same as the pictur show)
Note:2408A has 3 kinds of configurations,one is marked 2408A-1,one is marked 2408A-2,another one is 2408A-3.Fellow is difference of them.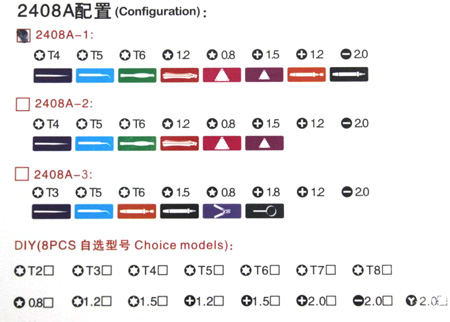 View All
Close
Warranty Information
We offer a 90-Day warranty. The warranty period covers any defects in the material or the workmanship of the product. Warranty does not cover any damage done while using the product. Any product returned within warranty period will be eligible for a refund or a replacement.
View All
Close
7 Reviews
good enough to change a screen

Not exactly heavy duty, but good enough to get the job done. Contained everything I needed.

What I need.

It's a nice complete set. Very handy and the price is right. However, the plastic parts can get damaged easily. It can't always be great for this kind of money.

There were plenty of tools in the box which worked well. They were colour coded. The paint used for the writing on the tools wipes off very easily. The plastic tools I expected to be a bit more flexible but the pry up tool edges snapped with any pressure.

This kit is simple and has enough tools to start with! Quality is ok!

Très bon outils pour réparer les mobiles et tablettes.

Excellent kit fits my cellphone. exactly what you need for your repair
View All
Close